A  limited-edition print series, with a focus on creativity and artist collaboration.
• HISTORY
   "In the early 1900s, a few surrealists in France gathered at an old house in Montparnasse, 54 Rue Du Chateau. There, they created and played a parlor game they called "exquisite corpse".  The rules are simple, one artist starts one section of a drawing and passes it to the next artist, who, while only being able to view a small part of the previous section adds to the drawing. This fun method inspires new and exciting compositions."
• THE PROJECT
   We are inviting some of the best working artists today and possibly some surprise guests in groups of 3 to keep this tradition alive in the current digital age, all while producing high-end black and white archival art screen-print limited editions for discerning collectors.
   Artists have complete artistic freedom, however, pre-sale purchasers are given a chance to vote on certain aspects to potentially inspire the art.
• THE PRINTS
Three artists collaborate on each print
18×24 inch screen-print on archival cotton paper with deckled edges
Single color black main image + Gold color ink signatures printed below the art and small icons for each artist.
Print name, series & print number and year in small type below the art
Embossed with the MAISON54 logo
Hand-numbered

• THE PROCESS
The prints are pre-sold online first through the Maison54 Collectors Group on FB. After that we open sales to other channels. The final print edition will not exceed 354 copies and may be less. 
This highly collaborative process will take time to produce. Each artist gets about 2 weeks time to fully complete their section before we go to print, emboss, and number. Expect 3 months or more from the pre-sale to when we begin shipping.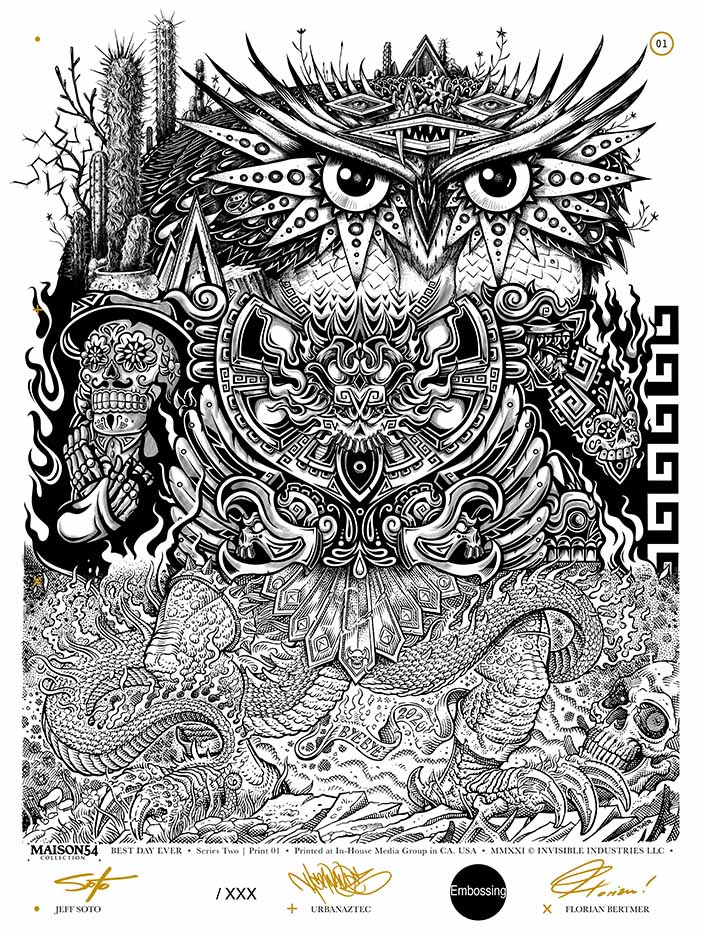 SERIES TWO
Print 01 | BEST DAY EVER (Completed)
Jeff Soto • UrbanAztec • Florian Bertmer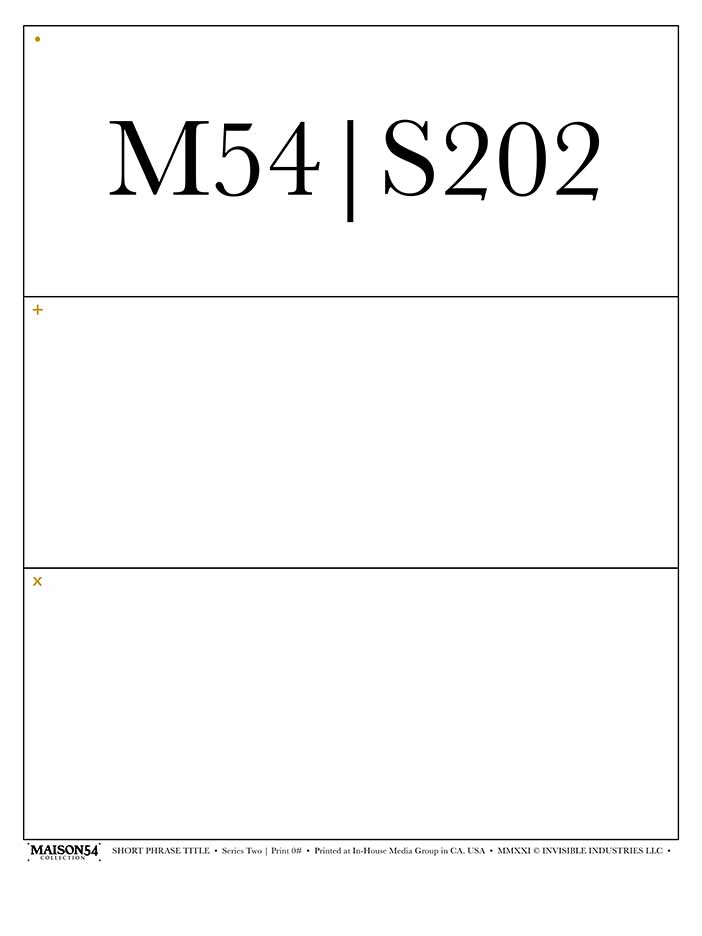 SERIES TWO
Print 02 | SCHEDULED
"Series" prints only available through the group.
SERIES TWO
Print 03 |SCHEDULED
"Series" prints only available through the group.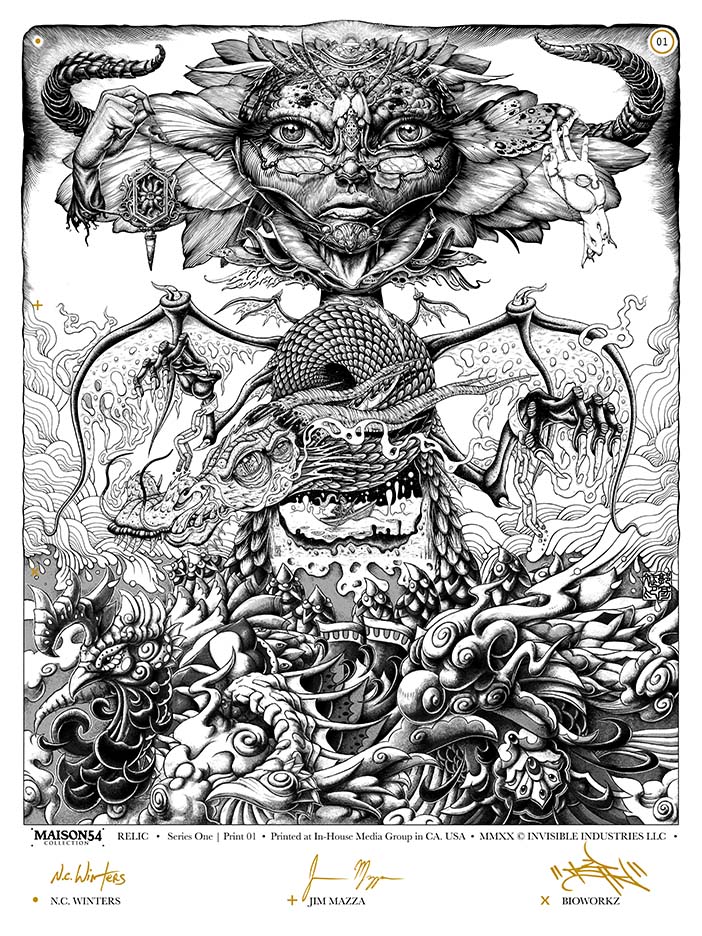 SERIES ONE
Print 01 |RELIC (Completed)
N.C. Winters • Jim Mazza • Bioworkz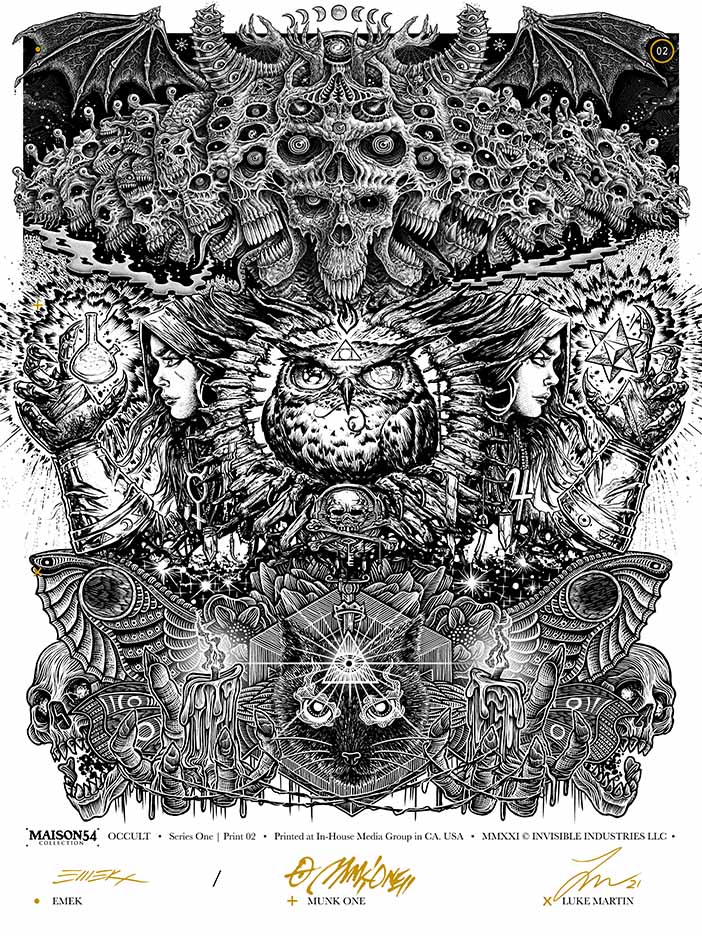 SERIES ONE
Print 02 |OCCULT (Completed)
Emek • Munk One • Luke Martin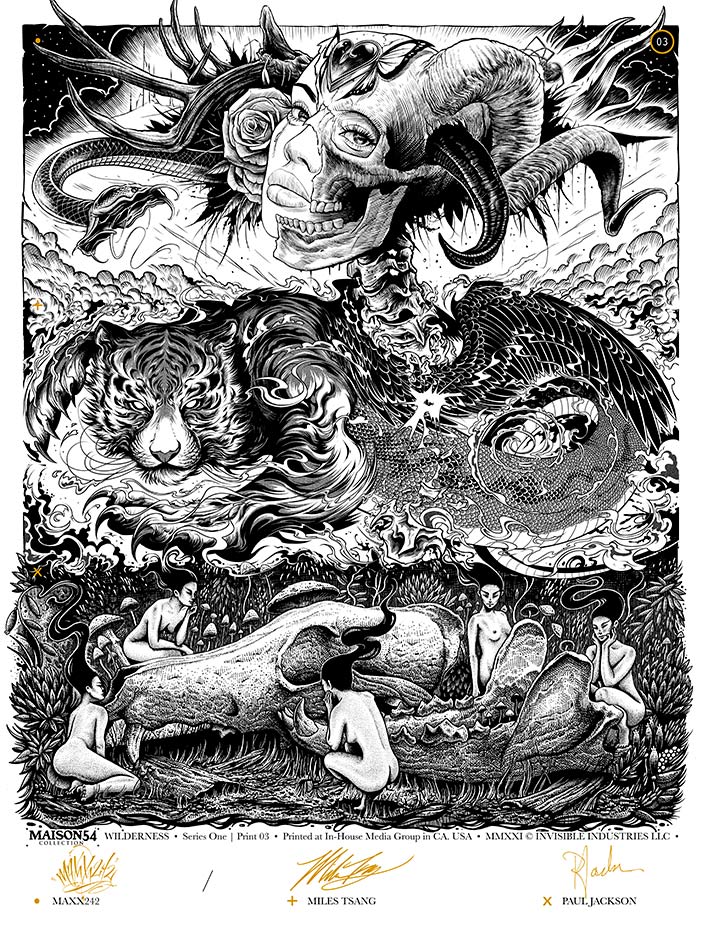 SERIES ONE
Print 03 |WILDERNESS (Completed)
Maxx242 • Miles Tsang • Paul Jackson
LUNAR 2021 • THE CELESTIAL OX • COMPLETE
Brandon Heart • Timothy Von Rueden • Brad Klausen