50% of the proceeds from this auction will go to the Charity www.directrelief.org as well as the purchase of PPE for local hospitals. This is the first of a few auctions that will be going up in the next few weeks.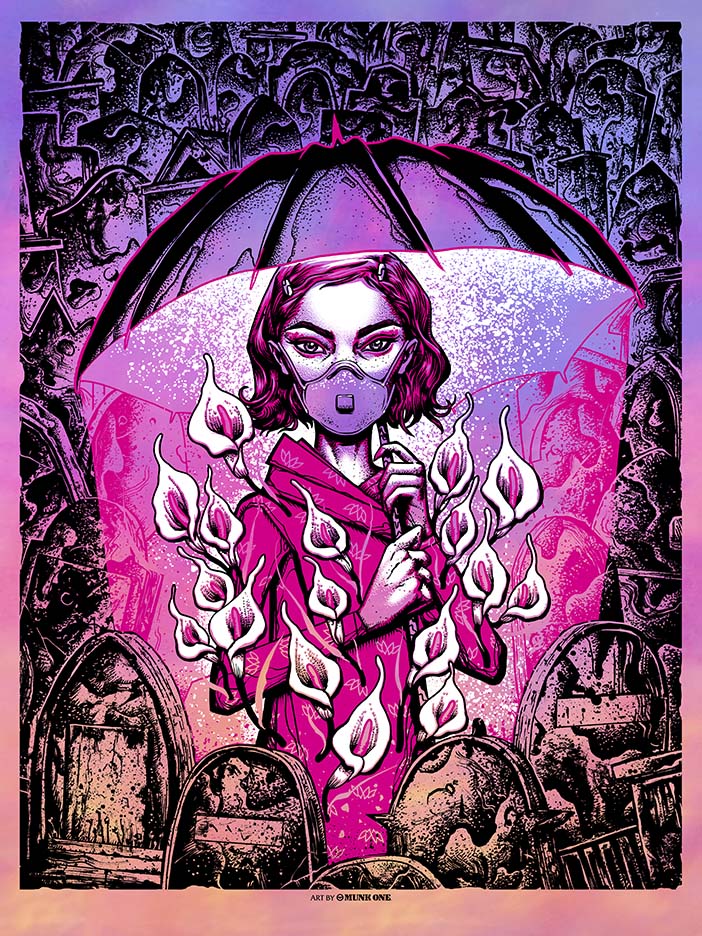 $555.00 Winning Bid by 05f1b128
Auction is now Closed
Garden AP – Official Munk One Print
Printed on Color Shifting Mystery Mirror Translucent Plastic
One single print
AP Edition of 11 Signed and Numbered
Part of a private commission for Pushing Paint.
Approx 18×24 inches
3 colors
Designed and Printed in CA.
AUCTION RULES:
You must have a current Invisible Industries shopify account to bid. Please make sure the email on that account matches your mailing list account so we can confirm your identity.
All bids are considered final with the winning bid determined by Invisible Industries LLC. An invoice for the item will be sent to the Customer ID # of the highest bidder following completion of the auction.
The successful bidder is responsible for paying for their item within 2 hours of the close of the auction or the item will go to the next highest bidder and so on.
Any non-payment will result in banning from all future Auctions and Sales. By participating in the auction by placing a bid you bound to all rules and regulations defined here as well as our store policy.
IMPORTANT: Only 1 of each exact design per household. Multiple orders of the same exact print are not honored even if placed by different accounts. They will be refunded and returned to inventory without exception. Matching number sets are not an available option at this time.
Please make sure your shipping address is up to date on all payment accounts BEFORE placing order. Changes of address after an order is placed are not allowed and will order will be refunded.
CA residents pay sales tax. Colors on screen vary from monitor to monitor and may vary slightly from actual product. Each material and paper stock has its own characteristics, so each print may be slightly unique. All sales are final and up to the sole discretion of Invisible Industries LLC.
All content © & ™ MMXX INVISIBLE INDUSTRIES LLC.