LABOR DAY WEEKEND - ADDITIONAL PRE-PURCHASE TIME!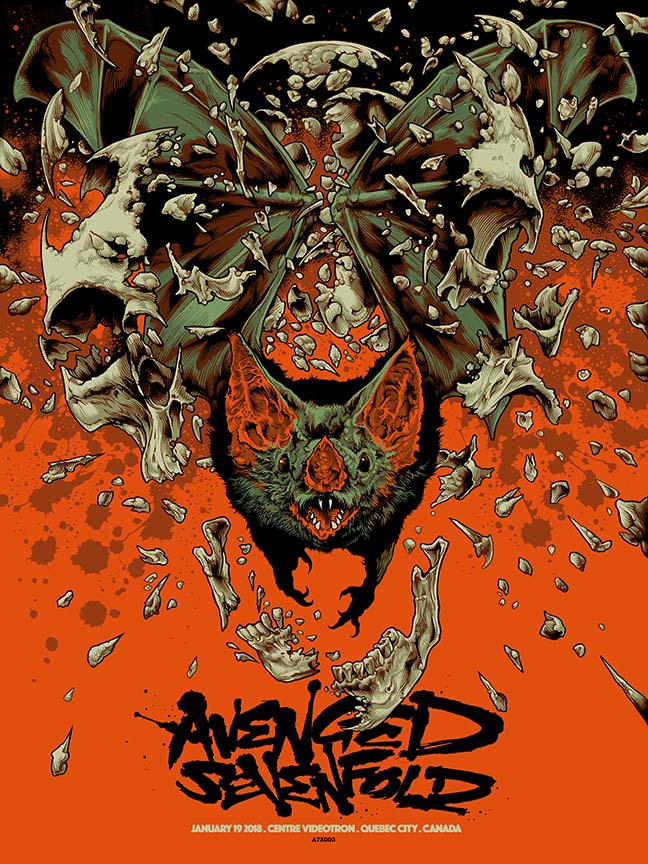 A7X003 Quebec City 2018 by Ken Taylor 
On Jan 19, 2018 Avenged Sevenfold played to a Sold Out crowd at Quebec City's Centre Vidéotron. This memorable night will forever be immortalized by the roar of the crowd in one of the greatest cities to perform.
Artist Ken Taylor has created this thrilling new poster to commemorate that live event! 
Pre-sale begins August 18th 2021 @ 1:19pm PST and ends after 14 days.
**One of each print version per household. Pre-Sale Item. NO REFUNDS.
Please allow approx. 1 month after close of pre-sale for printing. Once printed, orders usually ship within 2-3 weeks or sooner.
See store for details and important ordering info.** 

On April 18th, 2009 the band Avenged Sevenfold played a legendary show at The Joint In Las Vegas.
18″x 24″ Screen-Prints, Printed and shipped from California, USA 2021

On January 12th, 2018 the band Avenged Sevenfold played the Bridgestone Arena in Nashville, Tennessee to a crowd of thousands.
18″x 24″ Screen-Prints, Printed and shipped from California, USA 2021
A7X001 – January 12th, 2018 Nashville, TN. Art by Vance Kelly
A7X002 -April 18th 2009 Las Vegas NV. Art by Munk One
A7X003 – January 19th 2018 Quebec City. Art by Ken Taylor
A7X004-5 -Art by Jim Mazza (DATES TBA)
A7X006 -Art by Munk One (DATE TBA)

PLAY:BK ™ & © MMXXI INVISIBLE INDUSTRIES LLC. ALL RIGHTS RESERVED